EUROTOOL 2017 trade (English)
We invite you to the 22nd International Fair of Machine Tools, Tools and Equipment for Materials Processing EUROTOOL on 28 – 30 November 2017 in Cracow.
We will be waiting in WISŁA hall on stand 8.
We will answer any questions you may have regarding our machine tooling, tooling and cooperation in CNC turning and milling.
During the EUROTOOL fair we will present the CNC shaft grinder, type OGC-1020.
Features:
Both axies use servo drive and precision ballscrew.
OGC Series: Powerful CNC control with graphical interface for easy dialog programming. The operator does not need to know complicated control system G codes and macro programs, but step-by-step complets the standard grinding cycles, such as external grinding, hole grinding, face grinding, and internal grinding. A standard programming method based on M and G codes is also available. The machine is equipped with Mitsubishi M70 control system. On request, Siemens or Fanuc also can be used.
T Series: NC based PLC control with intuitive and convenient graphical interface. The user selects one of the defined machining cycles and uses its graphical hints to enter its parameters.
The robust grinder body is designed for maximum rigidity and minimize vibration.
Both the guides use an automatic hydrostatic lubrication system that ensures maximum fluid flow, this provides various features such asextreemly smooth movement, added feed accuracy and superior grinding accuracy.
The wheel spindle is made of SNCM-220 steel, subjected to normalization, tempering, carburizing and freezing. After heat treatment, the spindle is precisely ground. The hardness of the finished part exceeds 62HRC.
The workpiece spindle has a servo drive. This allows for smooth adjustment of the speed.
Optionally, the grinder can be equipped with an automatic workpiece measuring system, which improves machining quality and productivity as well as anti-collision safety.
By registering your invitation at www.eurotool.krakow.pl till 24.11.2017 you will receive free admission to the fair. You can also print out invitations and exchange them at the trade fair in the GUEST REGISTRATION FEE for a free admission ticket.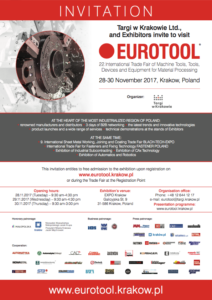 https://richo.pl/wp-content/uploads/2017/11/Eurotool_RICHO-Polska-baner-z-numerami-2017_ang.jpg
296
1241
admin_richo
https://richo.pl/wp-content/uploads/2017/10/logo-richo-300x138.png
admin_richo
2017-11-14 18:41:20
2017-11-14 18:42:21
EUROTOOL 2017 trade (English)